Pennsylvania Conference for Women Experience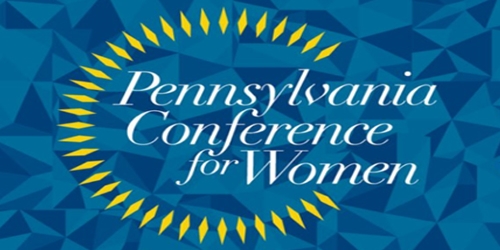 In October, srcLogic sent its female employees to the Pennsylvania Conference for Women. I thought it was amazing how supportive srcLogic is of their female employees and how unique, that in a male dominated tech field, our Principals thought to give us this opportunity. The conference was a powerful event with over 12,000 attendees and many different speakers coming from a wide range of backgrounds. The wisdom these women shared taught me about empowerment, standing up for myself, and the importance of women helping women. I was inspired by their stories and I want to share my experience at the conference.
The first keynote speaker of the day was Amanda Southworth, a 16-year-old developer and activist. She told a personal story about how anxiety and depression impacted her life. Amanda shared how she was bullied in front of her classmates who did nothing but stand by and watch, as well as by her own parents. She retreated to her computer and downloaded psychology textbooks to learn strategies to cope with her depression and anxiety. While educating and caring for herself, Amanda thought that she could share her strategies with others like her. Having a passion for coding, Amanda began developing applications to help people suffering like she was. My main take away from Amanda's presentation was how important it is to take action. When we witness something that doesn't seem right, we need to take a stand and fix it. It is easy to stand on the sidelines and not get involved, however then nothing will get done and nothing will change. It is our responsibility to stand up for ourselves and those who do not have that ability.
Next Amal Clooney spoke and was another great example of someone who stood up for people who were not able to stand up for themselves. She spoke of taking ISIS to court on behalf of client, as well as how important it is for women to come forward and demand equal rights. Amal stated that we are in a time of "reckoning and a rebalancing of power" and that women deserve to be respected. She was such an inspiration and really reinforced the necessity of taking action, and that when we speak out, people in power should listen.
Another speaker that I enjoyed listening to was Jen Welter, the first female NFL coach. She talked about breaking into a field that was entirely male dominated and how she commanded respect from her colleagues and her players. She did this by first, building credibility. Jen spent the time building relationships with managers on the team who were already well respected. Having their support gave her some respect from the players. She is also an established football player herself, so her players could watch videos of her and see that she has the experience to back up her coaching. To me, this situation came across as somewhat similar to our company. Many times, we are the youngest people in the room by many years. Our clients trust us because we build strong relationships with Pega, with our clients, and deliver great products. Another strategy Jen used to build respect was humor in confrontational situations. By using this approach instead of calling people out when they said something offensive, she was able to get her point across without making the other person defensive or uncomfortable. I liked this approach because she was able to stay true to her personality but stick to her values and be respected by her peers. She also gave them a chance to recover if they didn't mean it. By saying something like, "did you really just say that out loud?" the person can quickly realize that what they said wasn't right and apologize, without feeling attacked. People are more responsive this way and can learn from their mistake. Jen's talk resonated with me and taught me the importance of building credibility, and how to stand up for yourself in a good way.
The last speaker that stood out to me was Serena Williams. Before hearing Serena talk, I had no idea how many projects she was a part of. Aside from being a world class tennis player, she has a fashion company, the Serena Williams Fund which promotes equality for all genders and races, works for better maternal healthcare, and more. Serena touched on all these different aspects of her life and how she got there. She emphasized the importance of pushing boundaries and being your own champion. One big thing that led to her success was putting in the hard work and believing in herself. Every day doesn't have to be a success, but if you keep a positive attitude and keep moving forward, you will get there. Serena also stressed the importance of women supporting women. Whether it is to give someone a boost on a not so successful day, congratulate a victory or help to push boundaries, we are stronger when we work together and build each other up.
Listening to all these incredible women inspired me. After attending this conference, I felt empowered. I learned that it is important to speak up for myself and for others, and some good approaches to do this. I learned that boundaries should be pushed and that sometimes you must blaze your own trail. And finally, I learned that there are a lot of woman out there who want to make a difference in the world and that by working together and supporting each other, anything is possible.